5 Tips to Help Plants Thrive in Summertime Heat
We so often look forward to summer, the time of the year where the days are longer and warmer. For most parts of the country, that means the heat is real. You protect yourself and your family with sunscreen and shade, but it is important to give your plants some relief from the summertime heat as well.
As a gardener, there are some steps you can take to ensure your garden, plants and flowers continue to thrive during the summer months.
#1 – Apply Mulch
Mulch is an excellent way to protect the soil. It serves as a barrier to ensure direct sunlight will not hit the soil, leaving nutrients and water with the plant. It is also an insulator, working to keep your plants cool during the summer months.
When applying mulch, be generous. We suggest using more than you think you need—remember you are creating a barrier from the sun! You can purchase a bag from your local home and garden store or create your own.
Pro Tip: Use grass clippings as a mulch replacement. You'll save money and help the environment!
#2 – Keep Your Soil Moist
You never want to over water or under water your plants, but during the summertime your outdoor plants need an extra drink of water—just like you and I do. A good rule of thumb is to make sure the soil is moist 3.5-4 inches in depth.
For our home gardeners, use an irrigation hose and feed it directly into the soil evenly around your garden each morning. Check your garden's soil moisture throughout the day.
#3 – Remove Weeds
Your garden, plants and flowers need all the moisture and nutrients they can get during the summer months. When weeds grow they begin to absorb water and nutrients. A good rule of thumb is if you see a weed, pull it! Don't let the weeds get a hold in your garden or flower bed.
Pro Tip: Place the removed weeds in a compost bin and put them to good use later!
#4 – Provide Shade
When the sun is out, everyone likes to retreat into the shade, that includes your plants! If your garden or flower bed is in direct sunlight, take an old, light colored sheet and hang it over your plants like a canopy. Make sure it is hung three to four feet away to allow optimal airflow. Another option is repurposing a mesh window screen and hanging it above.
#5 – Reboot Nutrients in the Soil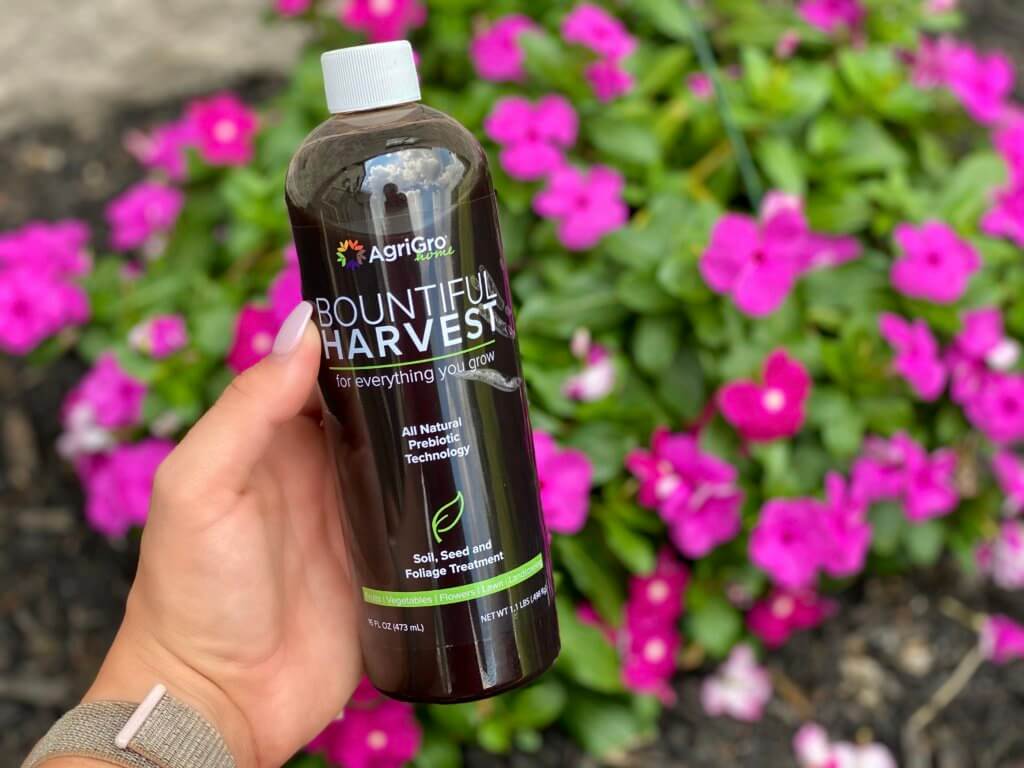 Now that your plants have been established and growing for a bit, it's the perfect time to reboot the uptake of nutrients in the soil by increasing the microbial activity again with Bountiful Harvest.
Bountiful Harvest's prebiotic formulation contains macro and micronutrients, vitamins, enzymes, amino acids, and complex carbohydrates that benefit both the soil and plants production, health and support the beneficial life in the soil.  How it works…by bringing the nutrients that have settled into the bottom of your pots back to the roots of the plant, and so much more.
By applying Bountiful Harvest every three weeks or so you're feeding the soil and plant powerful biomolecules that supercharge the symbiotic cycle, increasing nature's beneficial microbial populations up to 5,000% and therefore increasing the health of your plants to help them thrive during the heat of summer.
Bountiful Harvest is the same field-proven, university tested formula that commercial growers have been using from AgriGro for years, re-packaged for easy use by the home gardener. It is simple to use and can be applied to the soil, seed, roots and plant foliage to maximize growth and production.
Don't forget, it is safe to use around children and pets.
FREE SHIPPING
https://agrigro.com/wp-content/uploads/2020/06/IMG_2910_Facetune_06-07-2020-13-24-28-2.jpg
400
797
Stephanie Talburt
http://agrigro.com/wp-content/uploads/2022/03/AG_logo_4C-300x63-1.png
Stephanie Talburt
2020-06-29 20:06:39
2020-07-29 15:10:24
5 Tips to Help Plants Thrive in Summertime Heat