AgriGro Attends the 8th Annual Aqua Forum in Monterrey Mexico
Monterrey Mexico
Recently, AgriGro attended the 8th annual AquaForum in Monterrey Mexico. This event is a gathering of international experts in the wastewater treatment, pool, and spa industries with regional and national distributors and manufacturers that interact directly with end users who are responsible for the maintenance and operation of wastewater treatment plants, portable water plants, pools, and spas.
AgriGro proudly works with Spin Group as our Mexico, Central and South American Distributor for our Agro-industrial and wastewater treatment products.
During our time at the trade show, our team had the opportunity to network with many different representatives of companies in the wastewater industry from Mexico, Guatemala, Costa Rica, Panama, Colombia, Ecuador, and Bolivia. We also hosted a seminar to provide education on the benefits and effectiveness of our industrial wastewater products and met with Spin Group executives.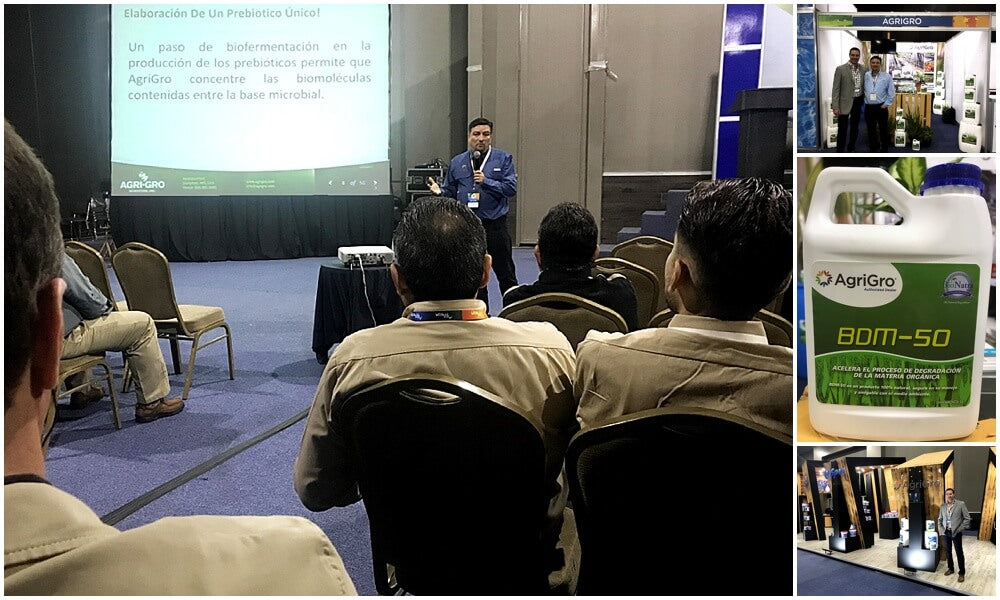 With 52 years in business, Spin Group is a multicultural Mexican company.  Founded by Humberto Abaroa Martinez, along with his wife Elvira and their four children Humberto, Veronica, Hector, and Luis.  They have owned and operated the company since 1957 and excelled in the manufacturing and commercialization of products and services  in the pool, water treatment, and chemical specialties for the food, construction, gardening, and automotive maintenance industries; consolidating themselves as national leaders with a marketing presence in Mexico, Central and South America, Europe, and the Caribbean.
Agri-Gro Marketing, Inc. formed AgriGro Mexico, S.A. de C.V. in 2008, and aligned with Spin Group in order to add our prebiotic biodegradator and animal feed supplement to their pipeline.  Spin Group has been a gracious host and tremendous partners in the industry.
Throughout the summit, AgriGro worked along side of Spin Group with each bringing representatives to both host a booth and a breakout session.
Fred Helwig, AgriGro's Latin American Representative presented during the breakout session on the technology behind AgriGro Mexico's wastewater treatment product BDM-50. Samantha Marquez,  Brand Manager for AgriGro products and Head AgriGro Representative for Spin Group, hosted the AgriGro BDM-50 booth.
Also in attendance at the event was AgriGro Corporate Representatives, Shannon and Lori Smith. Shannon is Co-Owner, Vice President and Sales Executive of AgriGro Marketing Inc. He specializes in Livestock with nearly 3 decades of experience in the agricultural industry. Lori Smith, Shannon's wife, is AgriGro's Digital Marketing Director and Home and Garden Sales Representative specializing in online sales.
https://agrigro.com/wp-content/uploads/2019/04/aqua_forum_feat_img.jpg
399
797
Stephanie Talburt
http://agrigro.com/wp-content/uploads/2022/03/AG_logo_4C-300x63-1.png
Stephanie Talburt
2019-04-16 18:32:56
2020-08-06 17:06:41
AgriGro Attends the 8th Annual Aqua Forum in Monterrey Mexico