Historic Flooding Affects Soil Health and Crop Production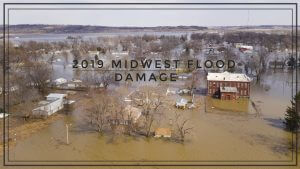 The "bomb cyclone" that raced across the Midwest on March 13 and 14 was the strongest storm in the region for decades. While many have heard news reports and seen photos from this unprecedented weather event, it can be difficult to understand the far-reaching impact it has had on the Midwest. In fact, many property owners are still reeling from their loss as they try to estimate their damages. However, estimates are currently in the billions, and many of the major effects on soil health and crop production have yet to be seen. In today's post, AgriGro® takes a closer look at what made this storm so unique and the aftermath of the subsequent devastating floods.
What Made the Bomb Cyclone Special
If you are a grower in the Midwest, you've probably seen your fair share of winter storms. After all, feet of snow are not uncommon in states like Nebraska, Kansas, and Iowa. So, what made the "bomb cyclone" in March so different from any other storm, and why did the area experience so much flooding afterward? Surprisingly, we must look back to the fall of 2018 to better understand the answers to these questions.
In September and October 2018, the Midwest saw torrential rain that triggered rare fall flooding in areas of Nebraska and Iowa. The heavy rains and flooding saturated the ground, which then froze before it had a chance to dry out. In addition to the 1.5 to 2.5 inches of precipitation that fell during the March 2019 storm, the snowmelt before and during the storm added between 3 and 6 inches of moisture to the ground.
These conditions created a troublesome situation in which the ground simply could not absorb all of the moisture and, as a local meteorologist described it, the effect was like "pouring water on a table." The rain, snow, and snowmelt simply had nowhere to go, and so it spread across the landscape of Nebraska and Iowa, carrying massive sheets of ice with it.
The Impact of the Storm
The aftermath of the storm and the subsequent flooding has been catastrophic. A recent AgWeb article indicates that Iowa governor Kim Reynolds has projected $1.6 billion in total damages, $214 million of which are agricultural damages. In a recent AgPro article, we learn that the Nebraska Farm Bureau project that damage from the storm could exceed $440 million for crop growers alone.
Soil health has been compromised due to the flooding, which eventually will impact crop production across the region. Farms are uninhabitable, livestock has been lost in the middle of calving season, and some farmers have lost a lifetime of tools and farm implements — effectively the basis of their livelihood — because of the storm. The post-storm flooding was so catastrophic that 13% of our nation's ethanol production capacity was reduced, as plants across the Midwest have had to shut down or scale back their operations. Reports of damages are still coming in as growers have the ability to inspect their operations.
AgriGo's Involvement
Here at AgriGro, our mission is to give, serve, and support. We understand that we are called to extend help and hope to growers across the country. Our team is dedicated to supporting growers in need throughout the Midwest recover from the flooding that resulted from the bomb cyclone.
As a testament to this, we are working with individuals to identify farmers along the Missouri River who were affected by the flooding so we can donate IgniteS2 and FoliarBlend to help heal and restore production to their affected farmland. In total, we anticipate contributing enough product to treat up to 100,000 acres of affected farmland of these growers in need.
In addition to this, we offer a number of crop products that are designed to enhance soil health and crop production while lowering growers' production costs and dependence on chemical inputs. These products can help soil bounce back faster, enabling growers to resume their operations as quickly as possible in the wake of these terrible floods.
Enhance Soil Health and Crop Production
Has your farm or commercial growing operation been impacted by the historic flooding that occurred in the wake of the March 2019 bomb cyclone? If so, and if you are concerned about your soil health and upcoming crop production, AgriGro is here to help. Contact a local dealer today to learn more about how our innovative crop products can help your operations bounce back from the unexpected and restore profitability to your operations
[button class="" url="https://agrigro.com/crops/locate-a-dealer/" text="Locate a Dealer"]
https://agrigro.com/wp-content/uploads/2019/05/2019midwestfloodblogfeaturedimage-scaled.jpg
1311
2560
Stephanie Talburt
http://agrigro.com/wp-content/uploads/2022/03/AG_logo_4C-300x63-1.png
Stephanie Talburt
2019-05-13 20:43:12
2019-07-31 18:58:27
Historic Flooding Affects Soil Health and Crop Production