IndigoLT Poultry Growers Presentation – All Natural Litter Treatment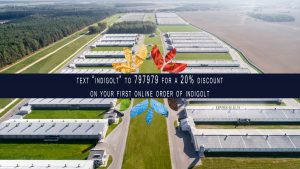 Poultry Growers Discuss IndigoLT® Poultry Litter Treatment
Shannon W. Smith, Co-Owner, Vice President, and Sales Executive of AgriGro Marketing Inc., recently met with MO-ARK Poultry Association in Harrison, Arkansas to discuss their commercial operations and factors that affect performance and profitability. With nearly 30 years of experience in the agricultural industry, Mr. Smith was honored to speak with the local growers and explain how IndigoLT®  all-natural poultry litter treatment, could enhance their daily operations.
To hear the highlights of the meeting, listen to the podcast below. Otherwise, continue reading below for a brief overview.
IndigoLT Poultry Litter Treatment Meeting Recap
Cellulitis Control
Four years ago, local turkey producer, Eddie Todd was losing about 200 birds each day to cellulitis. Mr. Todd knew he had to do something to resolve this issue quickly, so when he heard about IndigoLT, he decided to give it a shot. Following the application of IndigoLT, the cellulitis problem decreased dramatically and it has not been a major issue for his turkey operation since.  
What Sets IndigoLT Poultry Litter Treatment Apart from the Competition?
While other litter treatments may immediately reduce ammonia levels for a few days, they fail to sustain these levels over any length of time and do very little to affect actual litter quality. IndigoLT works differently, causing ammonia levels to decrease throughout the entire grow out. Perhaps more importantly, with the use of IndigoLT, litter quality is dramatically improved as evidenced by dryer litter, improved nutrient values, lower levels of disease causing bacteria, and an overall healthier growing environment
IndigoLT is a low rate liquid product designed to be used alone or with other litter treatment products and can be applied quickly and easily on top of poultry litter with any agricultural sprayer.  The product is non-corrosive, which means that it won't damage houses or equipment.
Enhance Your Poultry Operation with IndigoLT
Are you searching for an effective, all-natural litter treatment that is safe for the environment as well as safe on equipment, growers and birds? If so, look no further than IndigoLT. AgriGro's litter treatment can help lower ammonia levels, reduce pathogens and disease, reduce caking, and provide an environment that is conducive to improving overall bird health. Contact our company today to learn more about IndigoLT poultry litter treatment or purchase online now. Text IndigoLT to 797979 for a 20% off code on your first order. 
[button class="" url="https://agrigro.com/product/indigolt/" text="Buy Now"]
https://agrigro.com/wp-content/uploads/2019/05/indigoLT_feat_image-scaled.jpg
1284
2560
Stephanie Talburt
http://agrigro.com/wp-content/uploads/2022/03/AG_logo_4C-300x63-1.png
Stephanie Talburt
2019-05-20 16:24:16
2020-08-06 17:50:04
IndigoLT Poultry Growers Presentation – All Natural Litter Treatment