With the start of the 2021 season rapidly getting closer, it brings to question, what steps will you take to maximize production and protect your crops.  Seed treatments have been shown to play a critical role in providing protection for the seed and seedlings against pressure from outside stressors such as insects and diseases from the moment that they are planted.
For the majority of growers, seed treatments have become an important part of their standard management practices to enhance stand establishments and get the seedlings off to a strong, healthy start. Seed treatments have shown to control early-season pathogens such as seed rots, blights, and even help prevent irreversible damage from numerous early-season insect pests.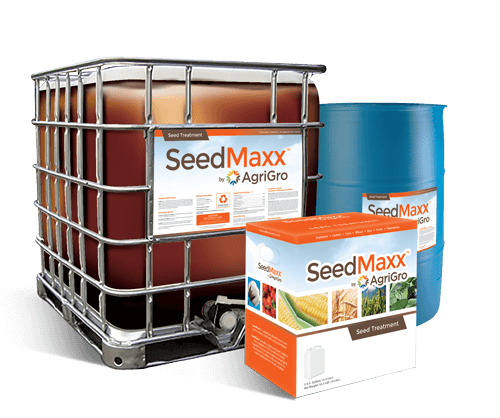 With all this being said, all seed treatments are not created equal, with some treatments only protecting against fungal diseases, others provide early protection from insects and larvae, while others protect from certain environmental conditions such as cold and wet growing conditions.
AgriGro's® SeedMaxx® represents a new generation of prebiotic nutrition in a convenient, seed safe formulation. SeedMaxx® technology not only improves germination rate and early plant development but has a targeted effect on the soil's native microbial populations in the rhizosphere, therefore, causing an increase in biological activity and breaking down any insoluble nutrients that the seedling can absorb and create a stress-free growing environment.  With the increase in microbial populations and activity, crops will be better suited to push through yield dragging challenges such as cool, damp growing conditions, better drought tolerance, and nutrient shortages all while reaching their genetic yield potential.  
Multiple studies performed by KMR Research has proven that SeedMaxx® produces higher yields when combined with other seed treatments than those treatments would produce on their own. Check out our 2018 SeedMaxx trial and our 2019 SeedMaxx trial and see the results for yourself.
SeedMaxx® Benefits:
Encourages better germination.
Produces more even emergence.
Increases seedling vigor and improves plant structure.
Develops larger, better root systems.
Supports nature's "Web of Protection" in the rhizosphere.
Delivers consistent yield performance, better test weights and improved crop quality over a wide range of growing conditions.
Offers soil mobility to improve fertilizer efficiency and nutrient uptake.
2020 Research:
In a study performed by KMR Research across multiple corn varieties, SeedMaxx was evaluated in 6 different locations:
Arcadia, IA
Buffalo Center, IA
Dickens, IA
Storm Lake, IA
Elizabeth, IL
Round Lake, MN
SeedMaxx® applications were as follows: 6oz of SeedMaxx® / 100 lbs of seed.
(IBG is a seed treatment with the active fungi Beauveria Bassiana, meant to reduce insect and disease attacking the plant)
Overall, SeedMaxx® alone averaged a 14.4 bushel per acre increase over the control.

SeedMaxx® alone averaged a 14.4 bushel per acre increase over the control.
Download Research PDF
https://agrigro.com/wp-content/uploads/2021/02/cornseeds_featimg_2-1-scaled.jpg
1282
2560
Sarah Kruse
http://agrigro.com/wp-content/uploads/2022/03/AG_logo_4C-300x63-1.png
Sarah Kruse
2021-02-23 01:06:16
2021-03-01 22:31:55
Consider Implementing SeedMaxx® Into Your Management Program